NIP Group Workers' Compensation Class Code Guide
Workers' Compensation class codes are utilized by insurance agencies to recognize explicit classifications of work types and allow adequate appraisal of workers' compensation rates for associated work related risks. At NIP Group, we target National Council on Compensation Insurance (NCCI) class codes.
NIP Group works with more than 5,500 broker partners across the USA to bring your clients best-in-class insurance solutions and provide extensive resources to help you expand your business.
We have compiled this downloadable guide to serve as a collection of available NCCI workers' compensation class codes, including basic descriptions of operation, for your reference.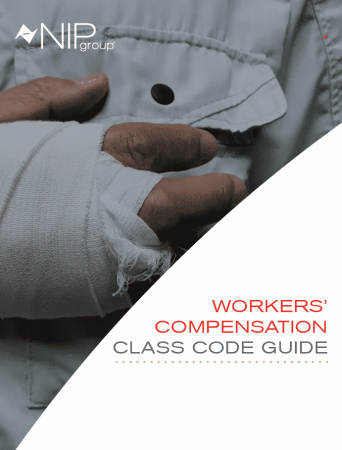 Download Our Workers' Comp Class Code Guide
Simply fill out the form below to access our guide that details all NCCI class codes as a convenient resource for your prospecting efforts.
What is included in this guide?
Available NCCI Class Codes

A full list of NCCI class codes commonly used to determine workers' compensation rates.

Descriptions of Operations

Descriptions of work operations associated with each class code.
Learn More About NIP Group
30+ Years Insurance Industry Expertise
Our team has deep roots in the insurance industry, with a passion for helping commercial client manage workers' compensation risks.
Specialized Coverages
We go beyond the typical insurance policies, using our deep knowledge of the industry to create custom coverages.
Risk Control Expertise
Our team uses our insurance industry expertise to develop unique workers' compensation coverage and educational material.
Superior Customer Service
In the event of a claim, or other need, our expert support team is prepared to help you quickly and professionally.
Competitive Rates
We work hard to give you the best pricing for the coverages you need to protect your business.